Free Gutenberg Blocks to Supercharge Your Website
Kioken Blocks is a fantastic suite of advanced Gutenberg Blocks that will maximize your productivity and creative freedom. It takes only a couple minutes to create a beautiful, responsive website with Kioken Blocks.
Too advanced, yet super simple to use.
Enjoy the advanced capabilities of a premium page builder in Gutenberg with very easy to use 17 and more coming beautiful blocks.
So Many Features
Sliders, posts with custom post types, advanced animations, parallax and Google fonts, shape dividers and more!
Design Templates!
Dozens of free and premium block layouts and templates which will boost your website design to a new level!
Total of 7500+ Icons!
Kioken Blocks comes in with 1500+ line and solid icons, while Pro version has 6000 more with additional styles!
Built in Gutenberg Extensions
Kioken Blocks provides insanely brilliant tools to extend default Gutenberg blocks such as custom typography, inline text color formatting, custom margin spacings and border radiuses for core blocks.
Gutenberg Templates!
Kioken Blocks provides dozens of professionally designed block templates and layouts for you. Free version has around 15 templates(and more coming), while Pro version has 200+ more!
One Click Insert
Combine templates and get your awesome looking page up in seconds!
Max Productivity
Eliminate the time consuming design process of your blocks.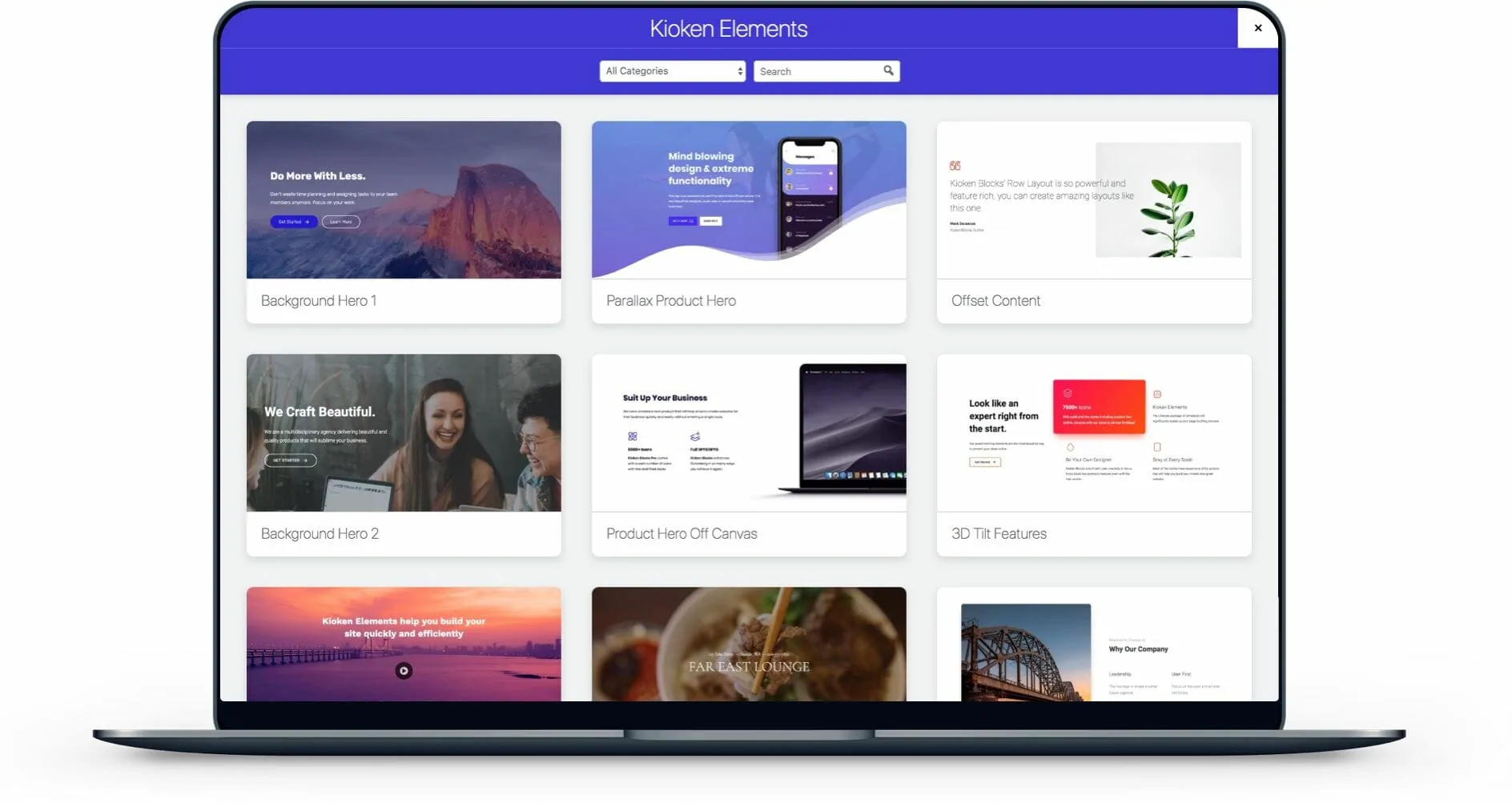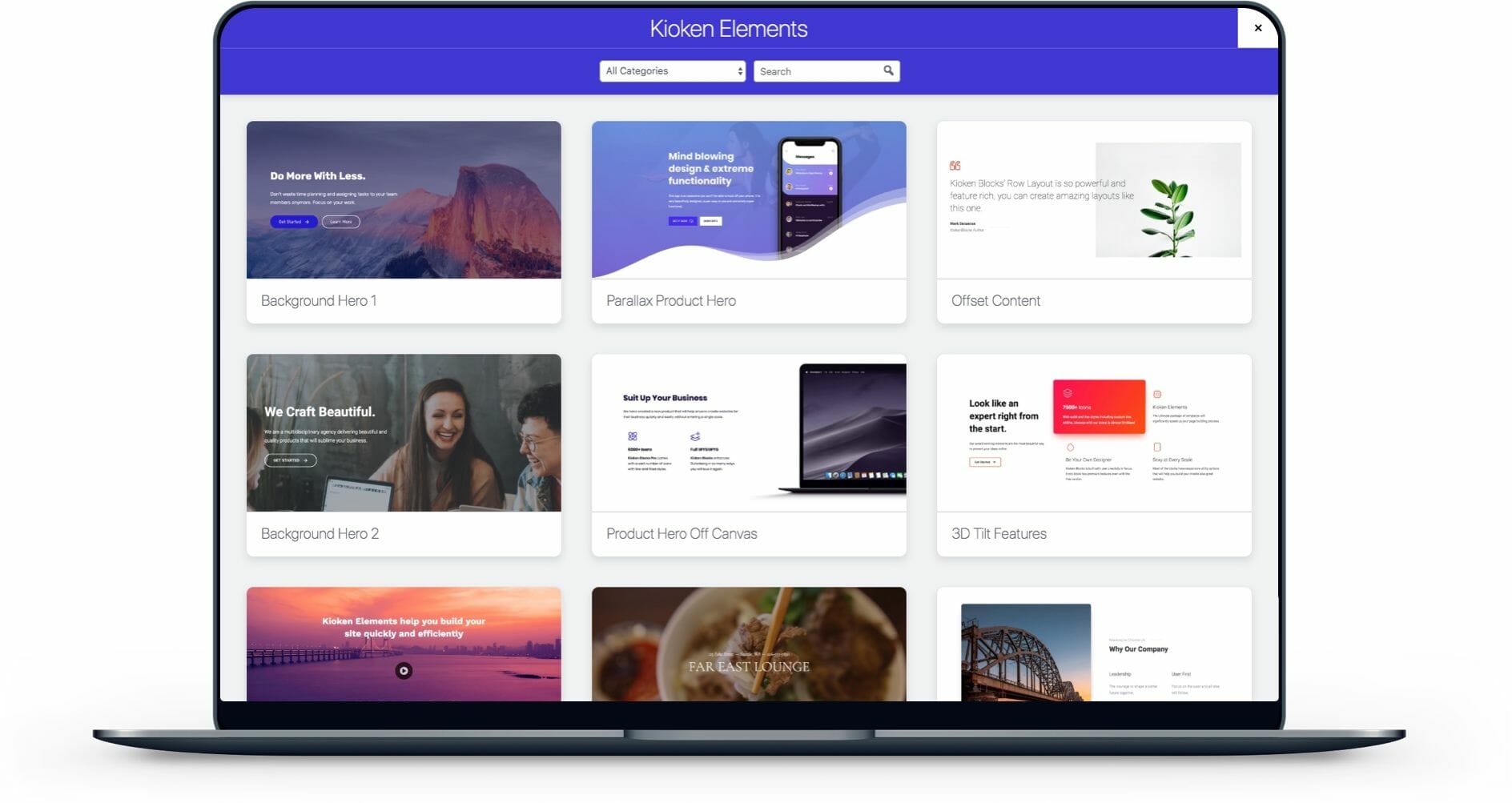 The Blocks even Gutenberg Core Team
Love and Recommend
After it's initial release in June 2019, the hype over Kioken Blocks has been big, and it came to core Gutenberg team's attention.
Kioken Blocks is not just a library of blocks but also an extension that enhances the Gutenberg experience to a page builder level.
The attention to tiny details added to Gutenberg with Kioken Blocks are so favored, some it's features are to be added in the core of Gutenberg soon.
We are also core Gutenberg contributors as well.
17 Gutenberg Blocks and Counting
The most advanced and easy to use blocks for Gutenberg.
Kinetic Posts
Display Custom Post Types enabled Posts with Carousel, Grid or List View. Change layout and design on the go.
Container Row
Create grid layouts and columns with parallax or gradient Backgrouds, add shape dividers and so much more!
Divider Plus
It's more than just a spacer. A total of 8 styles include default, with text, with icon, vertical, and much more!
Kinetic Wrapper
Create advanced containers with Kinetic Wrapper. Pro version also enables Scroll Parallax & advanced settings.
Image Box
Create advanced imagery with hover effects to showcase your products, portfolio, or as a call to action.
Visual List
Need more than bulleted lists? We have Visual List for you, which you can set custom icons for each list item, or all.
Features
Create and showcase features just like these ones, with custom styles, shadows, icons and hover effects.
Fancy Buttons
Add single or multiple buttons with icon, gradient background, custom typography and many more effects.
Split Headings
Now this is a one of a kind block! Split Headings allow you create animated heading lines with style!
Testimonials Carousel
Create single or multiple testimonials with this block with a slider. Edit the slides and view the changes live in the editor!
Icon
1500+ FontAwesome and Line icons with custom line strengths! Pro version increases the number to 7500+!
Tabs
Create Stylish tabbed content with custom tab title and content styles. Place any content for each tab and style them!
Google Maps
Place Google Maps to your page as simple as entering your address. In addition to default one, 6 more styles included!
Numbers Counter
Highlight your stats with animated counting numbers and content. Hide or show prefix and suffixes.
Open Table Form
Running a restaurant or venue business? Open Table block helps you place a stylish booking form in seconds!
Video Box
Place Videos to your page from Youtube, Vimeo or self hosted ones. Adjust border radiuses, shadows, fullscreen play and much more!
What They Said
Ratings from WordPress.org
---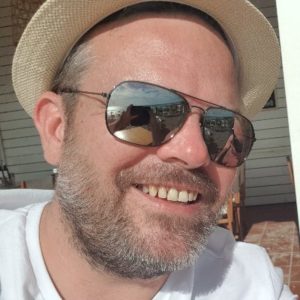 I felt compelled write this review to after using Kioken Blocks. It's quite simply awesome. Compared to other block editors available, this plugin is easy to use and stylish results can be achieved rather easily. If you're looking into using Gutenberg and worried about your site not looking up to scratch or not having enough flexibility in terms of layout options, Kioken Blocks is for you.
Ben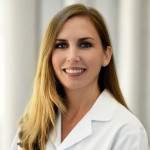 I loved how this plugin works. The templates are really well designed.
There are these tiny dots when you change a setting of a block, which helps me understand what I've changed. Good job!
Martha Stone
More Than Fit Blog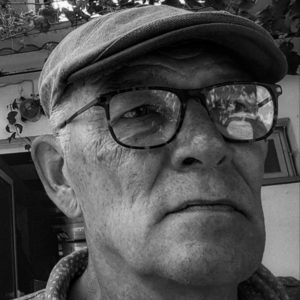 Tell No One!

But thanks to Kioken, my website has a unique look. The layout is nice and sophisticated and even your standard blocks get extra options! Do not tell further so, but use it!
Photographer, Netherlands
Ready for It?
Get the most versatile and user friendly page builder utility for Gutenberg and enjoy a great editor experience like never before.