If you're using WordPress, you must be well aware of the rant going on about the new editor, Gutenberg. Most users have been bashing the plugin for being embedded it in the core with WordPress 5.0, and the hot debate about if it should be the primary editor is not cooling down.
I want to talk about why you should. (Cause I did, the result is the very website you're browsing right now.)
I agree that the change happened with the 5th version is not just using a different editor, but a paradigm shift in the whole WordPress editing experience. This change didn't make every WP user happy and it's understandable. However, well keep reading 🙂
The State of WordPress and Gutenberg
As of the end of June 2019, 7 months since the first core implementation of the editor, and Gutenberg has evolved significantly. Switching to Gutenberg powered WordPress no longer auto-breaks your website, and the number of unexpected errors and issues continue to decrease.
It's still not fully mature yet, but is getting better, faster and easier with every new release. With WordPress' new server suggestions of PHP 7+ and Nginx, you can edit and publish your website with Gutenberg driven WordPress much faster than you used to, as long as you choose to follow the modern standards on the technical side.
So why would you use Gutenberg as your primary editor on a production site or blog? I will tell you 5 reasons. Please keep in mind though, those are totally my personal suggestions.
1. Gutenberg has come a long way and getting better every day.
As of the date of writing this post, Gutenberg plugin version is 5.9.2 and WordPress is at 5.2.2. The Gutenberg in the WordPress core is always an earlier version of the plugin, but most stable one.
With that in mind, you can create posts and pages with a much better, a more intuitive interface compared to plugin's earlier versions. Speaking of earlier versions, I have to admit the UX and the editing experience was really gruesome at times for me, looking at it from a user's perspective.
With every newer version, Gutenberg keeps evolving and "slowly" gets closer to being a solid content editor. While the WordPress team do not strictly claim it's a WYSIWYG editor, it is somewhat achievable with the help of page building add-ons, such as erm, Kioken Blocks!
The Classic Editor
Back then, when Gutenberg was introduced into the core of WordPress 5.0, people with negative reception to this change immediately started doing one thing. Install the Classic Editor Plugin, disabling the Gutenberg.
Over time though, the active installations of Classic Editor have been neglecting, and that tells something:
Users are either slowly getting used to Gutenberg, or it's growing on them. Just like it did on me and many others. Following is the graph of last 8 months stats for Classic Editor plugin activity: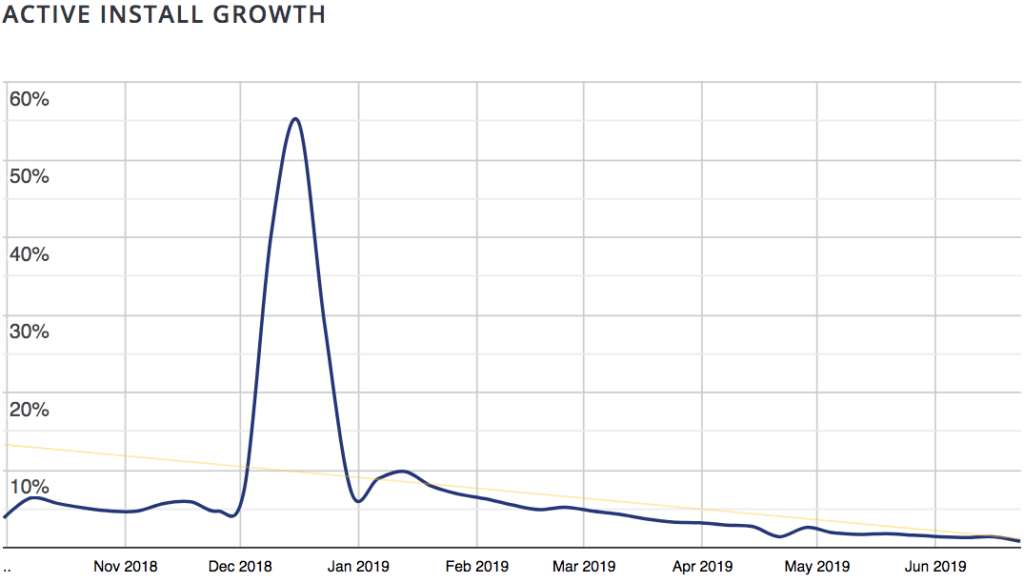 Notice the spike in Dec 2018? That's when Gutenberg was introduced into WordPress, and then month by month, the number of actively installed Classic Editor has been decreasing. That is even though at a very slow rate and with the fact that it's still active on 5 million websites.
You might be one of the haters reading this, and I'm no way trying to change your mind. I just want to point out that maybe Gutenberg is not so horrible as it was a couple months ago. There have been thousands of closed tickets in the repository ever since, and the editor experience is getting better with every release.
Lets have another look at this. If you like the Medium's content editing experience, you might just love Gutenberg in time.
2. Editor Speed
With each Gutenberg release, the dev team shares benchmarks of editor performance. It's a short summary of stats about how long it takes to edit a text in a page with thousands of text and huge amount of blocks.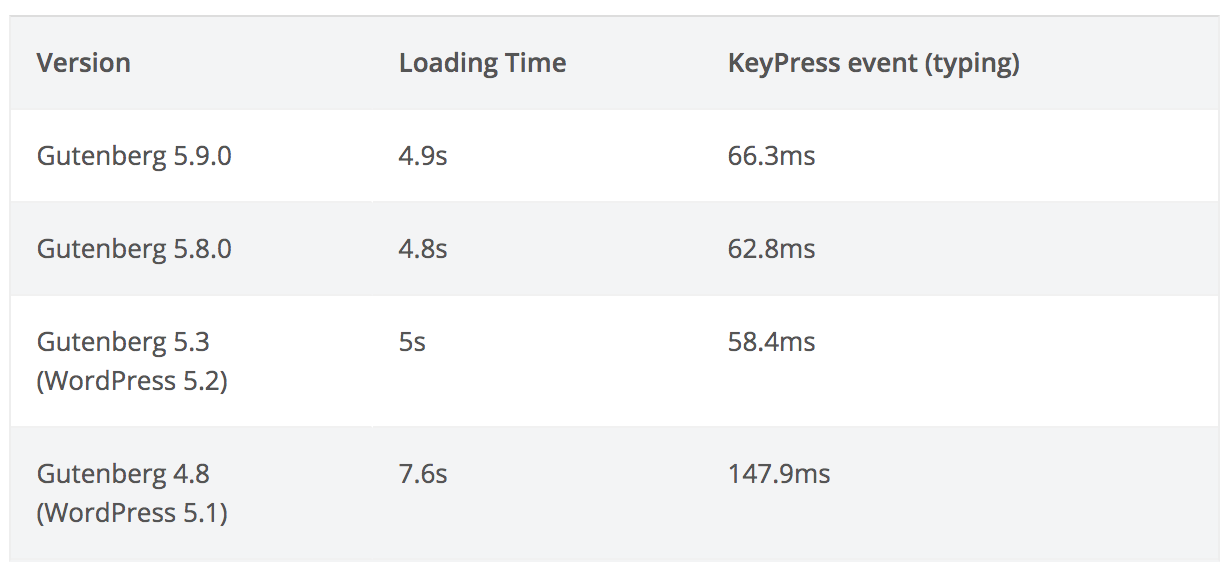 If there was a comparison of this data with other plugins' performance, results would be interesting. Because the way Gutenberg works is robust and really, really fast (considering you have the modern hosting environment).
This no way means page builders are worse. In fact in many, many other ways most page builder plugins still outrank Gutenberg. But this is not our case. There's also a discussion going around Gutenberg causing around 300ms of latency WordPress Mobile core load, so I'm excluding this in my claim (since it's debatable).
There may be oppositions to this, that the positive editor speed in fact is not true. I would agree, but only if a block add-on for Gutenberg is developed poorly. Because that's one of the only probable causes for Gutenberg get creepy today. I will get into the technical details of this in an another article.
In short, speaking of content editing speed, your performance will be superb with Gutenberg once you get used to it.
3. Even More Editor Speed
I have been using WordPress since version 2.0(2005). And users as old as I am know how the combination of WordPress, MySQL, JS, PHP and Apache was gruesome in terms of Admin performance.
With the introduction of Gutenberg Sidebar Plugin API, we wanted to explore the way we create meta boxes. Meaning the options for each page. And it is fantastic!
Until 2 months ago, we have been using a meta box plugin in our premium themes for overriding customizer options in a page. Say the layout, or the header options for each post or a page. That meant additionally loading JavaScript, CSS and PHP for every editor load on a post (extra load time).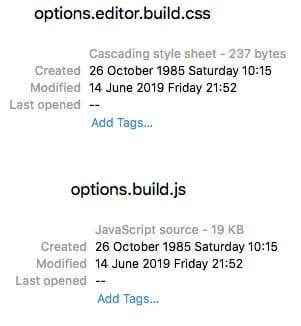 What we did with our latest premium theme is remove the meta box php and js scripts all together, and port them into a Gutenberg Sidebar Plugin. Result:
The whole page options js and css is totaling only 19.5 kb! That means the full page options for each options and page loads like in no time, just because you have Gutenberg.
Don't only take my word for it, since there are other plugins leveraging this as well, like Yoast SEO. Again, in short, Gutenberg is the way you should go because it's good!
4. It's the Future
Like it or not, Gutenberg is your default editor with your WordPress 5 and above installation. So you have 2 roads ahead of you if you hate Gutenberg:
Given the fact that statistics showing a serious neglect on other WordPress plugins since the introduction of Gutenberg, we are entering a new era of content editing. And that is block based page building.
Some techy bloggers say you will use WordPress with only Gutenberg, just because page builders eventually diminish over time and you will be left with nothing but only with GB, even though you hate it. I refuse to acknowledge that kind of fact, because I know in time everyone will love Gutenberg. WordPress team are working super hard on it to happen.
Why do I know it will happen?
I have a story: Back in 2014, when I was the lead designer of @Udemy, we had a radical decision of revamping the whole Udemy login/signup/home flow into an interest/preference based interface. We knew there's a chance it would fail, but we needed to see it for real and we took the risk. The result was disasterous. People hated it, the revenues bottomed, and we were like "what did we just do?".
But then, with a few critical adjustments, over time, people embraced the change. And today, as you are well aware, Udemy is the biggest platform in the world for online learning.
Every radical change in a well going business is approached with caution by the community. Remember when iPhone was first introduced? Remember how long it took Apple's competitors switch to a touch based phones?
WordPress is still running on 18 million websites. One of them is yours. And Gutenberg will eventually become the wife of your site, not mistress. You would need to live with that fact, or better yet love it.
5. Ongoing Diversity and Short Learning Curve
Some people might have hated Gutenberg and everything about it, but the ones who embrace it started adding plugins for extending Gutenberg. Our Kioken Blocks is just one of them.
Today, especially the bloggers who migrated to Gutenberg enjoy how crazy fun it is to build content with WordPress. For content builders and WordPress experts, Gutenberg still needs plugins like Kioken Blocks, and maybe this will always be the way it's going to be.
You want to add a video background to your content? No need for installing a plugin, just use cover block of WordPress. You want a parallax background image for your section? Just install Kioken Blocks! Getting used to Gutenberg, block based editing and new editor experience only takes about and hour, I promise you.
Just Google "new WordPress editor tutorials" on your search screen and you will be fine.
Conclusion
Gutenberg is a bold move of WordPress. It's nowhere near a complete content editor, but continuously evolving in a good direction. It is the new trend in content creation and we all need to embrace it. You may not fall in love with it at first, but you just might over time!
So, Are you ready to build your websites with Gutenberg? Don't forget installing Kioken Blocks!